Well... I actually managed to get out and do a bit yesterday. Drove from Halifax to Mid Wales to fish my beloved Severn. I chose 3 swims and threw in a few handfuls of 3-B 12mm boilies and a few handfuls of 3-B pellets and then set up my gear. I started fishing at 2.15pm with double 12mm 3-B boilies tied tight to the bend of the hook and had to use 3oz grippas to hold bottom as the Vernwy was sending down a lot of extra water. After I suppose 20 minutes I had a knock quickly followed by another but nothing developed. Another 10 minutes or so later the same thing happened, and again nothing developed. Now I know you are thinking 'what a plank - a bite is a bite, strike it' but this is not the case here as all bites are absolute rod wrenchers, so I knew these knocks signalled fish hitting the line, so I reeled in about 10ft and left it. The rod pulled round almost immediately and slipped off the rest but I manged to grab hold and held the rod high as the fish charged down stream and towards the far bank bushes. Steady pressure halted its progress and a short while later the chub was beaten and laying in the bottom of my net. The Severn had given up one of its prizes and on the scales it read 5lb 4oz, an absolute peach of a fish and scale perfect, a lovely fish after so long away from the banks and yet another '5'.
I had no further action from my 3 baited swims, so I upped sticks and walked the 300 yards to my favourite swim and deposited a handful of 3-B and let the swim rest while I put my thermal suit on as the temperature was dropping quick time as the skies turned dark. A short underarm flick into the darkness and I sat back and held the rod on the rest waiting for a gentle whack. My fingers were starting to loose feeling and after about half an hour I was starting to think my swim was not going to produce the goods for me this time, but then without warning my right arm was pulled round and I immediately switched the anti revese off as this fish was not stopping. The bail arm clipped my knuckles as it spun and I shouted out in pain as my fingers immediately becam red hot! Somehow I managed to carry on playing the fish through the pain barrier and eventually coaxed it over the net at the fourth time of trying. I flicked my head torch on and viewed my prize and I recognised it as a fish I had caught twice before when I lived in Wales some 6 years previously. It had a split dorsal and a split in the tail that I recognised and on the scales she went an impressive 5lb 11oz. After the formality of photos and slipping her back into her freezing cold watery home I pulled a quid out of my pocket and flicked it into the river. My favourite swim has been incredibly good to me over the years and I wanted to pay her back for giving up two of her nomads. Needless to say the journey home was a good one as I kept on smiling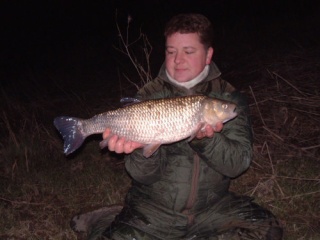 Admin




Posts

: 194


Join date

: 2011-02-02


Age

: 50


Location

: Too far away from the Dorset Stour :(



Darren
Nice one mate, the stretch you fish looks ace,I really enjoyed it when we fished there, well done on your trip fella, good to get a result.
Will be good to catch up on the Wye, have you sorted out some fishing? me and Aidie will be on the Town stretch on the Friday.





Posts

: 85


Join date

: 2011-02-07


Age

: 29


Location

: on the stour somewhere



Darren,
Well done mate. Looks a good fish, actually think it looks bigger!
Look forward to seeing you gents on the Wye get-together.
Martin



Posts

: 45


Join date

: 2011-05-22


Age

: 46


Location

: Lincolnshire




---
Permissions in this forum:
You
cannot
reply to topics in this forum