Since the death of my old mate Terry, fishing hasn't seemed quite so important, certainly the end of last season,and the start of this one found me increasingly not wanting to go.
The Team Hookbaits do on the majestic Wye a venue Terry loved, seemed to put a little fire back in me. I came home from the trip with my chub head well and truly on.
The following weekend I did my usual two short trip sessions , Saturday and Sunday after tea saw me tramping along the banks with new vigour, swims were baited left and fished later on and a few fish up to 5lb 10oz were landed on the 3-B boilie.
I still think the mighty Stour is a shadow of its former self, with a distinct lack of fish on all stretches, but a few lumps still remain.
This weekend I revisited Canford once the mecca for chub fishing,but now it looks a little sad and neglected, perhaps this will work to my advantage some time in the future, I did manage to hook what felt like a real lump, I was playing it under my feet when all went solid, I eased off for a short while and I thought the trick had worked as the rod came back to life, but as I lifted into the fish the line had gone under some hidden snag and parted.
No more bites were forthcoming so I trudged off home.
Today dawned it was cloudy with quite a sharp breeze, I thought this would help the fishing as the Stour is running fairly clear, I made my way down the path to the river,  as usual on this stretch I had the place to myself, the first swim was tried, it used to hold some really big fish, and in numbers, but they have moved and tracking them down is proving difficult.[
Wandering downstream I noticed a clear patch of gravel a rod length out surrounded by weed, a perfect ambush point, coupled with the fact I could fish from behind the bank side growth well hidden from my quarry, a few free offerings of 3-B were introduced followed straight away by my hook- bait, as I sat with the line over my finger, I felt a small tweak on the line, not enough to have a go at but a fish all the same, the bite when it came took me by surprise, I was not used to them of late, and was missed completely, Mr chevin had nicked my boilie, I introduced a few more broken samples in before moving off to my next swim. I fished three more in total with not so much as a sniff.
Time was moving on so I made the decision to move back to the swim I missed the bite in, a short underarm flick and the the 3-B bait was on the gravel, I settled down, confidence was high as I knew at least there was a fish around, the wait did not take long as the line jabbed into my finger, I swepped the rod back, and immediately knew in was a good fish, the fight was spirited but relatively short,  one last roll in the clear water before going into the net had me convinced this was going to be a good one.
I took the scales from my bag but to my disbelief the batteries were flat, what a prat, this is what happens when you get out of sync. What to do, I decided to phone my mate Deano, he may be local, I was in luck he was just getting into his car and would be with me in ten minutes or so.
Dean did the weighing and at exactly 7lbs seemed to make some of the pain of the last few months a little more bearable.
Just as I though things couldn't get better, as I walked back to the van looking a swims as I went, a far bank swim inaccessible for most of the time came into view , as I looked closer a few dark shapes could be seen gliding over the gravel, perhaps I have tracked them down. I will let you know. All the best nairny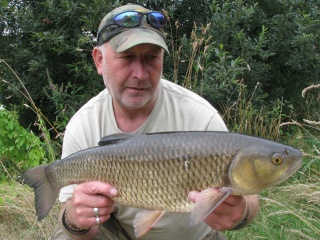 Last edited by nairny on Mon Aug 05, 2013 2:35 pm; edited 4 times in total



Posts

: 85


Join date

: 2011-02-07


Age

: 29


Location

: on the stour somewhere



Get in there Nairny, you know I have faith in you to very soon join the 8lb+club. If anyone is going to do it on the Stour it`s you and bollocks to the otters. Lets hope those 'dark shapes' are what you seek.

Mic




Posts

: 105


Join date

: 2011-03-03


Location

: Never more than 10 foot from a bloody bream.



Admin




Posts

: 194


Join date

: 2011-02-02


Age

: 50


Location

: Too far away from the Dorset Stour :(




---
Permissions in this forum:
You
cannot
reply to topics in this forum