Well, that's the end of another season. Probably one of the most unpredictable and difficult I can remember!
Since I last posted I've been out and about trying to catch a few. Largely still chub fishing with a couple of pike sessions thrown in.
During a spell of high water at the end of January I visited a stretch of the Welland that usually fishes well in such conditions and in short order landed my best Welland chub of the winter at 5lb14oz.
5lb14oz
February was a pretty quiet month, until the CSG AGM arrived and a visit to to Wye valley. I had a day on the Lugg, a major tributary of the Wye, which was a new river for me. It proved quite tricky still carrying extra water from recent rain and just one 3lber was all I could manage.
The following day I spent on the Wye and ended up with several chub to over 4lb. And another enjoyable sociel weekend with the group members in the Red Lion.
Wye 3lber on trotted flake
A couple of piking trips in the wild and windy fens finally produced a couple of modest fish to just under 10lb, but not really the caliber of fish I was hoping for!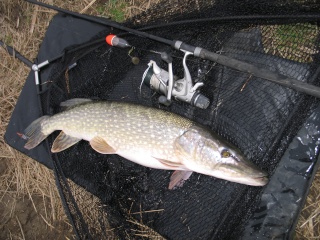 I finally broke my Thames duck, unfortunately my first Thames fish wasn't a whacking great chub, but a 12oz trout! I did go on to catch my first chub from the river, but that too wasn't very big, and despite adding another two chub the biggest I managed was barely 3lb.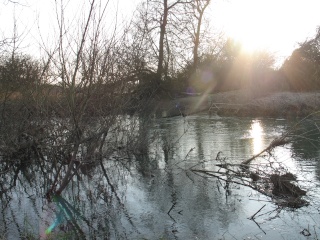 Evening on the Thames
The penultimate week of the season found some settled, mild weather coinciding with a few days off work, so I got out and tried to make the most of it.
Tuesday found me on the Ouse and maggots trotted along a nice far bank run produced several chub to 4lb, but the day was spoiled when I lost a really good fish at the net to a hook pull!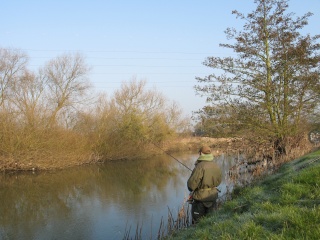 Trotting on the Ouse
A return to the Thames on Wednesday started slowly with just a 1lb chub from the first four hours. But, then my fortunes changed with a good fish of 5lb2oz from a tight snaggy swim. I followed this with a 4lb14oz and then to finish off I had a real beauty of 6lb6oz! Making the trip down well worthwhile.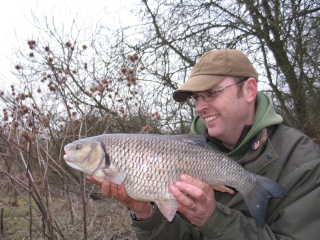 6lb6oz. How fat are these Thames chub?!
Thursday I visited the river Witham and another day spent trotting maggots produced plenty of action with chub to just under 4lb. Friday morning was spent on the Ivel and a few more chub to 4lb6oz. I finished the day back on the Ouse with several more modest chub, but I couldn't find another biggie.
The weather took a turn for the worse for the final week, with snow flurries and low temperatures slowing things down. Fortunately the final day saw things improve enough for the odd fish to be willing to have a go and half a dozen chub to 4lb8oz from the Welland on a nice sunny morning was enough to send me home happy and a pleassant end to another river season.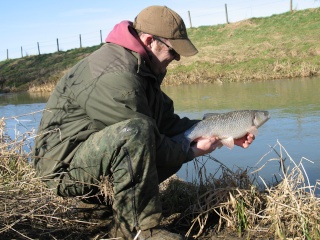 Final day 4lber.
Tight lines for now, Martin



Posts

: 45


Join date

: 2011-05-22


Age

: 46


Location

: Lincolnshire



Hi Martin,

Some nice chub Martin capped by that Thames lunker, also some nice pics to go with the captures, that ouse stretch looks nice, lets hope for something more settled for next term.....

John



Posts

: 71


Join date

: 2012-07-25


Age

: 69


Location

: Harrow. Middlesex.




---
Permissions in this forum:
You
cannot
reply to topics in this forum