Since my last post I have been hit with the sad news of the death of my very good friend Terry Lampard, it was a blow that has been hard to come to terms with.
We fished together on numerous occasions and his drive and enthusiasm was infectious. I always seemed to catch a good fish when Terry was around, and he was always pleased when it happened.
The master and the apprentice.
We shared catch stories with each other from week to week, he would come around for a coffee and play with my dog who loved him, then off he would go wishing me luck for my next trip. His personal best list is awesome, he seemed to be able to conjure up fish from the unlikeliest of places. We were watching some roach on the Stour one day, a shoal of pound and a half fish with some a little bigger and the next week, in front of the camera in the making of Catching The Impossible, he somehow managed to catch a three pounder from the same swim. A seven pound chub was the next mission which he did with ease, and even managed to put a two pound roach on the bank in the same filming session.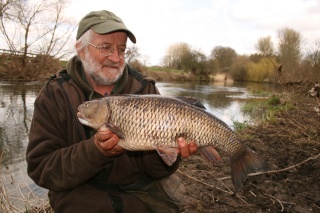 Years before this Terry was very secretive and whilst he was catching huge fish from rivers and lakes they were all kept within a tight knit group of friends. He eventually opened up and started publicising his captures and went on to win the prestigious Drennan Cup an incredible seven times, a feat I cannot see being surpassed.
Terry was a real mischief maker amongst his friends and would wind us up like you would not believe, he had nicknames for everyone, mine was of course Mr Naanbread, which he always used when we talked on the phone or e-mail, some of the names were not for public knowledge, but they were funny to say the least.
There are a few of us in the surrounding villages who had the pleasure of seeing the great man on a daily basis, Ian Davis (Ecky Thump) Paul Williamson (The Turnip) Richard Graham(The bastard - don't ask! ) then of course there was his long time fishing partner and great mateTim Norman, words cannot describe their relationship, so I will not even try.
Things will never be the same without Terry around, it is the end of a great era, and the man who we nicknamed GOD will always have a special place in my life.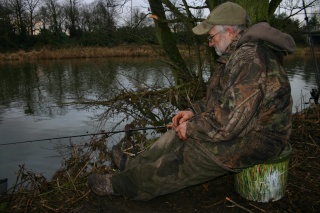 Farewell Terry.



Posts

: 85


Join date

: 2011-02-07


Age

: 29


Location

: on the stour somewhere



What a lovely tribute to your dear friend, heart felt words indeed Iain...you did him proud.
Admin




Posts

: 194


Join date

: 2011-02-02


Age

: 50


Location

: Too far away from the Dorset Stour :(



Some very nice words, well written Iain.

Jerry



Posts

: 20


Join date

: 2012-07-06


Age

: 44


Location

: on a river



Thanks Iain,

I think everyone lucky enough to have met or seen the Maestro in action will feel great sadness at his passing as will everyone who was in some way influenced by his magnificent angling feats. But it is things like the post baiting up brew in the morning on Ellis where we were filled in on all the goings on in Darkest Dorset that will be remembered by me. He had a wicked sense of humour and a razor sharp tongue that couldn`t fail to make you choke on your tea at least once a morning. He didn`t always seem comfortable in large gatherings and would often slip off if there was more than a couple of people present but once you had his confidence he was joy to know.

He was prone to fidgeting and I recall a morning where my mate Sim deliberately left a selection of dry groundbait ingredients in a bowl in his swim when Terry called in for his habitual cuppa and chat. Then whilst perched on his bucket Terry proceeded to fiddle about with groundbait in the bowl whilst we chatted and then looked perplexed when Sim said " I reckon that`s done now Terry" but joined in laughing when he realised the joke was on him. Happy days! and sad that they`ll not be repeated. My tench and chub fishing will never be quite the same again and I knew him only on an occasional basis.

Cheers Iain.



Posts

: 105


Join date

: 2011-03-03


Location

: Never more than 10 foot from a bloody bream.




---
Permissions in this forum:
You
cannot
reply to topics in this forum