hi all, its been ages since ive had any input on here so i thought i would share with you my seaon so far.Just looking in my fish diary and the magical june the 16th wasnt very magical as far as fish go 1 chub of 2/10 to show for my efforts,but as we all know it doesnt really matter its just that lovelly feeling of being back on the river after the long 3 months of fishing ponds and lakes with no atmosphere, its like coming home in a strange sought of way i dont think ive ever had a really good day on opening day come to think of it.however the next day was a different story,with a cracking chub of 6/0 taken on a 3b boillie over some free offerings a really nice fish with no marks a proper lump which is the only 6 ive had so far this seaon,i also had a chub of 3/10 that day so went home happy.In the following weeks sport hotted up with lots of fish showing and responding to the bait me and nairny were putting in with lots of 4s and a few 5s upto 5/15 gracing my net plus a couple of barbel one being 12/7 which mr nairn captured on film for me cheers pal,but this was just an appetiser for what was and is my best angling experiance ever and a new pb chub of 7/4!!!!!this happened about a month later and came on a hot day, middle of the afternoon just after netting another chub of 5/2 all as usal on the 3b over a few freebies i was completley stunned and after doing the pics and releasing her back in the swim i couldnt concentrate anymore and headed home on cloud 9 to share the news with the wife and as you can imagine she was as chuffed as i was,well i thought she was untill after me reliving the capture with her for the tenth time she politely told me to shut up!!I went to bed that night a happy man,since that magical day ive had a few more 4s and 3 more 5s so the season is coming good, roll on the winter thats when the proper fishing starts and hopefully more big girls will grace my net!!!!
cheers ade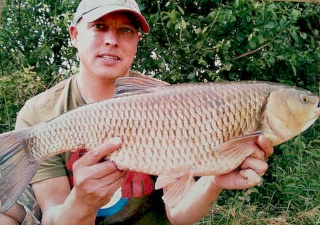 Last edited by snake on Mon Sep 17, 2012 1:36 pm; edited 1 time in total (Reason for editing : pics)



Posts

: 9


Join date

: 2011-03-04


Age

: 43


Location

: DORSET



Nice update Ade and cracking fish. You should upload a picture mate.

Admin




Posts

: 194


Join date

: 2011-02-02


Age

: 50


Location

: Too far away from the Dorset Stour :(



Nice going Snake, yes would like to see a pic of the Barbel and that brilliant whopper Chevin

Be Lucky
John



Posts

: 71


Join date

: 2012-07-25


Age

: 69


Location

: Harrow. Middlesex.



Well done Ade, that first "7" is a real angling milestone. They are a much rarer beast than the angling press would have us believe.

Mic



Posts

: 105


Join date

: 2011-03-03


Location

: Never more than 10 foot from a bloody bream.



Ade 2 fin perfect looking fish, that chub looks a magnificent fish thanks for sharing them with us....
Mic, ive yet to see a six

Be Lucky
John



Posts

: 71


Join date

: 2012-07-25


Age

: 69


Location

: Harrow. Middlesex.




---
Permissions in this forum:
You
cannot
reply to topics in this forum