As we all know familiarity breeds contempt, so time for me to move to pastures new
Having decided on a couple of venues that were far from the madding crowd, pre baiting began. The first few trips were disappointing with not a lot showing, but slowly chub began to appear on the baited areas, and some of them looked decent fish. Im sure with some hard work again, these fish could be conquered as on other venues, but they would have to be put on the back burner for a couple of weeks as a trip to Scotland with Kim and Stubble had been planned.
Travelling up through the stunning scenery of the Highlands a detour was made to meet up with a friend of mine, who has access to a Loch which holds some huge pike, I have never been much of a pike angler, but the lure of a boat and some big fish in fabulous surroundings was too much. Five hours on the Loch saw us bag fourteen pike mainly big doubles of which I had the largest, just short of twenty pounds all on dead baits, couldn't tempt one on 3-B Daz.
Returning home, it was back to the chub, once again,baiting, walking and fish spotting was once again my main focus, the chub were becoming more obliging and the river was also clearing giving better spotting conditions, one or two really big fish had already been put on the hit list, after weeks of not wetting a line I was getting twitchy.
Yesterday the 8th Sept was to be my first session fishing on the new stretch, I put some 3-B into the chosen swims which showed no signs of ever being fished, a cast was made to the far bank snag, from the off signs the fish were there gave me hope at least , sure enough the tip bounced and then sprang back, a solid strike and a heavy fish was hooked, a short plump chub of 5lb 7oz graced the bank. Not a bad start .
Some more bait was put in and left to rest while I wandered upstream to have a look at other baited areas, more chub were waiting for my baited hook but they can wait until my next visit . Time was getting on so I walked back down to get my kit before heading off home, pleased to have had a fish first attempt on the venue, but something told me to have one last cast, so I poked the bank stick back into the ground, and sent another hair rigged 3-B under the far bank snag, a bow of line was let out to try and hold in the strongish current, after perhaps five minutes the tip nodded and sprang back once again, now this I thought is a proper one, she tried to bury herself into the tangled mess I was fishing under, but after a very spirited fight a huge fish was being admired in the folds of the landing net, on the scales 6lb 10oz of empty Stour chevin, had me thinking what she would weigh at the right time.
I will be back.
The only downside was after setting up the camera gear the batteries were flat, so a pic on the ground from my iphone will have to suffice.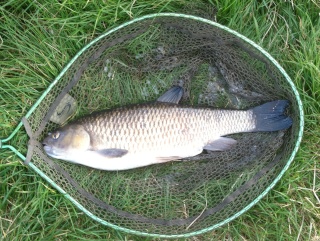 For now.
cheers nairny



Posts

: 85


Join date

: 2011-02-07


Age

: 29


Location

: on the stour somewhere



Good for you Iain, nothing stokes the old fires like a new challenge and no success tastes quite as sweet as one achieved through treading a road less travelled.

Hopefully your date with destiny in the shape of a knee weakening Stour chub will come through your pioneering endeavours and don`t forget the first text has to be to me.

Tight lines

Mic





Posts

: 105


Join date

: 2011-03-03


Location

: Never more than 10 foot from a bloody bream.



Nairny thats some special chub a cracker even, hope that you meet her again when the time is right...I like the pike but unsure about fish with teeth in their mouths

Believe me John, Iain is after its big sister

Admin




Posts

: 194


Join date

: 2011-02-02


Age

: 50


Location

: Too far away from the Dorset Stour :(



Darren, i wish him all the luck with his quest..

Wish my signature would work

How is your campaign going Mr?

Admin




Posts

: 194


Join date

: 2011-02-02


Age

: 50


Location

: Too far away from the Dorset Stour :(



Darren its tough!! Im on a hard stretch of the Colne its underfished not much bait going in and heaving with crayfish

i have been fishing the 3-b over beds of hemp beds of vitalin, anything to try to keep my hookbait away from the crays, only getting bream with the odd chub at the moment, i am hoping that when the water cools the crayfish activity will slow down...


Similar topics
---
Permissions in this forum:
You
cannot
reply to topics in this forum