The season for me ended with a bit of a whimper, last day was spent avoiding the crowds, when on reflection perhaps I should have fished along side them, but that is not me, I do like as much solitude as the stour will allow.
Some good days were had fishing with my mate Aidie, we had are fair share of stour giants including a couple of big barbel apiece,to go with some cracking chub.
A chub Study Group AGM trip to the Wye was one of the highlights of the season, Aidie and myself had a really good days fishing on the Holme Lacy stretch run by the Wye and Usk foundation, we both caught plenty of chub and barbel in stunning surroundings, and boy do those fish fight in the powerful river. Four ounce leads and 8lb line, on a pound and three quarter test curve rod, and still they tried to pull it in.
Back to the stour , one fish that eluded me was a big chub that I had spotted on several occasions that would not fall to my rod, or so I thought!! one Saturday evening the phone rang, it was a good old mate of mine to tell me he had a chub of over eight in the sack, my ever faithful lurcher Stubble and me headed back the twenty five minutes to the river, to find Alf in a bit of a state, I got the weighing and camera gear ready, as I lifted the fish from the water it was obvious this was a proper one, the scales read 8lb 6oz, what a result, I was very pleased for him, but having fished the swim loads during the season was a little disappointed not to have landed this monster of a chub!!
Then on the last day of the season another good mate phoned to tell me he had just witnessed the fish again from the same swim at 8lb 7oz,it was a bit hard to bare,where are all these grockells when you are doing all the home work summer and autumn,stuck on some carp puddle no doubt, only to come and wreck the last few days for you, when you really want to be sat in that area.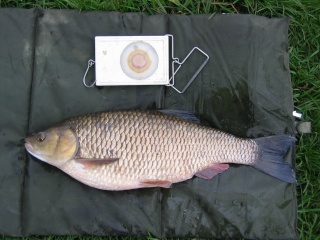 8lb 7oz turned out to be my 7lb 9oz from my 7th Jan blog
Then out of the gloom Dave sends me some pics of the eight he witnessed, and on close inspection I had indeed caught the fish in November at a lower weight of 7lb 9oz, at least it had not eluded me altogether,and I will take some comfort in the fact that I had managed to catch the fish before the circus arrived.
all the best for the close season, I shall be charging the batteries for next season, but if you are on a commercial somewhere be lucky.
cheers for now nairny



Posts

: 85


Join date

: 2011-02-07


Age

: 29


Location

: on the stour somewhere



Lovely fat chub. The best I could get this year from my local river was 5lb 4oz with a lot of 4's but I have seen pictures and talked to people that confirm my venue is a big chub water with fish well over 7lb to 8lb+. Maybe next season...........



Posts

: 22


Join date

: 2011-03-21


Age

: 39


Location

: Lowestoft, Suffolk



Hello Iain
Look I know how hard you`ve tried for that lump and the fact you caught it earlier in the season just goes to show that other than timing, you had it spot on.
Just hope that you get chance to pursue her again next season without too much interference from the grockles. I`m sure you`ll get her over eight given time and opportunity.
Until then....it`ll be "Nearly Nairny"!!!

Got my eyes on a double figure tench from an ocean this spring, just to tide me over until the real fishing starts again.
Mic



Posts

: 105


Join date

: 2011-03-03


Location

: Never more than 10 foot from a bloody bream.





Similar topics
---
Permissions in this forum:
You
cannot
reply to topics in this forum