Waking up to temperatures of minus nine on Saturday morning it was always going to be tough to try and temp a chub or two, and so it proved, my only fish of the afternoon was a mid three pounder caught on the cage feeder filled with liquidised bread and flake on the hook, I tried float fished maggot for a couple of hours but even that was hard work, Aidie did manage to hook a decent fish on the float rod, but as he was playing it, to his horror the top three feet of his £300 float rod inexplicably exploded,not a happy bunny! but worst was to follow, the snow had hit North Dorset and my wife Kim rang to say it was getting worse, we left the car park in drizzle and by the time I got home the single track lane up to my house was almost impassable, Aidie had to travel a few miles further north, the phone rang later to inform me he had run straight into a brick wall in his pride and joy of a Subaru, thankfully he was ok but the motor is a bit bent, not a good day for him.
Sunday came and after my usual walk with Stubble, I decided on a couple of hours trotting before coming home to a roast, and watching Man U trounce Chelsea(hopefully)
Arriving at the car park the temperature had risen to a balmy six degrees, a far cry from the harsh conditions of yesterday, something would feed in this I told myself, the first two swims were ruled out, first one because of an angler on the far bank who I thought was a little close, and did not want to upset him, I wish the pike angler who lobbed a dead bait under the same bush as I was fishing and then stood fifteen yards below me casting lumps of steel all around my swim last saturday had shown me the same consideration, the second swim I looked at was a little exposed and the wind was not going to help float presentation, so off I wandered down stream, and settled into a good looking swim with a row of overhanging bushes on the far bank, where the chub live, with a steady trickle of maggots flavoured with 3-B dust, I hoped to temp a couple out.
Feeding the swim for half an hour before the first trot proved to be a good move, and first trot saw a 5lb 14oz chub in the net. Perhaps another half an hour had passed before the float went under again, a firm strike and the rod was in a good curve as the fish hung in the strong current right along side the sticks on the far bank, as much pressure as I dared was put on the 3lb 2oz hook-length, and a big chub started to see my side of the argument, a few more lunges and attempts to get into the sanctuary of a dense bush hanging into the water by my side proved futile and another stour biggie had fallen to this brilliant method of catching them. Onto the scales a reading of 6lb 15oz was recorded I was pretty chuffed with that to say the least,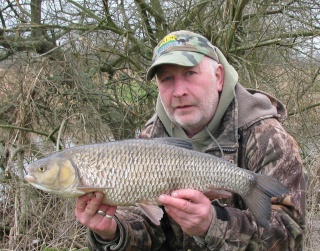 one more chub was tempted from its lair, slightly smaller but at 5lb 10oz made a nice trio of Stour chub in three hours trotting, it sure beats sitting behind a motionless quiver tip for hours on end, as can be the norm on the Stour some days.
The roast was good too, and a draw with Chelsea was not all bad, after coming back from 3-0 down.
cheer for now nairny
Last edited by nairny on Tue Feb 07, 2012 3:23 pm; edited 3 times in total



Posts

: 85


Join date

: 2011-02-07


Age

: 29


Location

: on the stour somewhere



Hi Iain,
Blimey, there's no stopping you is there! Well done mate.
I'll be out for another bash tommorrow eve after work. Temperatures don't look promising at all, but I won't catch for sure if I don't go!
All I managed last week were a couple of average fish and an up close visit from an otter!
Tight lines matey.
Martin.



Posts

: 45


Join date

: 2011-05-22


Age

: 46


Location

: Lincolnshire



Hello Mr Nairn
What a result.....3-0 down and back to 3-3

chub weren`t bad either!!
Seriously though, you can`t keep a good man down. Good catch in less than perfect conditions and you know I was impressed from our pre match exchange on Sunday.
You mention the good old feeder and flake in you blog, worthwhile me bringing my old favourite down when I visit God`s country later this week? I love bread fishing!
Mic



Posts

: 105


Join date

: 2011-03-03


Location

: Never more than 10 foot from a bloody bream.





Similar topics
---
Permissions in this forum:
You
cannot
reply to topics in this forum