After the high of last weekend, I was brought back down to earth on Saturday with a resounding blank, three hours on the float trotting maggot,and link ledgering paste into dark never tempted the Stour chub.
Sunday arrived and after taking my lurcher Stubble for a walk decided to have a go on one of my old hunting grounds, I only took the float rod as it was to be a very short session. Dropping into a swim named the" run in" I fed maggots whilst setting about sorting out the float rod from it's tangled state from the Saturday. Half an hour had gone by before my 5 swan loafer was guided through the swim, and another hour before the float buried, a decent chub of 5lb 4oz had gobbled up the single maggot on a size 18 and was now lying at my feet in the landing net in the edge while the next trot was made,near an overhanging branch on the far bank it buried again, this time a very solid fish was hanging in the fast water in front of me, obviously a good chub by the way it begrudgingly moved closer to my waiting net, in she went along side the other, at 6lb 1oz was welcome on this cold winter day, a few more trots were made and a couple of minnows were caught despite the cold conditions , the float went under again and a strike met with no resistance, another minnow had attacked the maggot I thought, so I let the float carry on along it's path, perhaps six feet further it went under again, damn it was another pesky minnow, I went to reel in and the thump of another chub had me wishing I had struck, and sure enough she came off after a few moments, on reeling in the minnow on the end in a very sorry state, crushed in the pharyngeal teeth of a good chub.
That was it for the day a very pleasant two hours trotting, and Darren will be pleased to hear the 3-B Magic Dust flavouring had worked as well.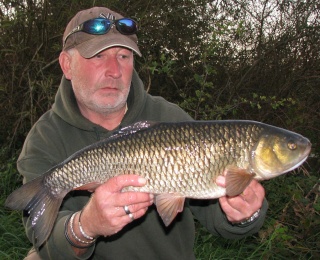 cheers for now nairny
Last edited by nairny on Sun Jan 15, 2012 3:48 pm; edited 1 time in total



Posts

: 85


Join date

: 2011-02-07


Age

: 29


Location

: on the stour somewhere



Admin




Posts

: 194


Join date

: 2011-02-02


Age

: 50


Location

: Too far away from the Dorset Stour :(



This entry passed me by until now Iain, sorry, not very observant am I?

Does Darren`s 3B Magic dust mean he`s bought a broom for his factory at last?

Sorry Darren only jesting!!

Well done on slipping the net under a few more, each one is one closer to the monster!!

Mic





Posts

: 105


Join date

: 2011-03-03


Location

: Never more than 10 foot from a bloody bream.




---
Permissions in this forum:
You
cannot
reply to topics in this forum