Having had a couple of decent fish the previous weekend, hopes were high as Aidie and myself set off for the river about 1-30pm, no cars were in the park as we arrived, so the choice of swims was good, we both settled into a large bay and cast our baits to a crease around twenty metre's from the bank, after an hour or more we had both missed bite's and concluded the culprits were probably small fish, also at this range any bite was going to be hard to connect with given the finicky way they had been feeding of late. So we decided to make a move.
The swim I chose was an old favourite from which many good fish have come to my net, but this season so far, not a single one had showed, so it was with some trepidation I decided to stick in this one until after dark, Aidie chose a swim 30 metre's or so above me.
As the light started to fade a sharp whack on the tip caught me completely by surprise, another cast resulted in another bite which was not struck at, I then changed tactics ever so slightly, lightening up the rig from a 3 swan link to a single ssg, and a smaller piece of paste on the business end with plenty of hook point showing.
I was beginning to think my swim choice was wrong, then the tip started to nudge forward an inch or so, this was all I needed, a swift strike connected with a powerful fish which bored under the bush to my right, I lowered the rod and bullied it out,the heavy fish was now under my feet trying to get in the bank side vegetation, I was having none of that, and gave her some stick,Aidie was now at my side with the net , I guided the big chub in.Phew!!!!!
We weighed what looked like one of the real stour monsters, I was not to be disappointed, 7lb 9oz, only one ounce from my pb, so close, but there's always next time.
7lb 9oz
The "apprentice"

finished off a good evening with another lump at 6lb 8oz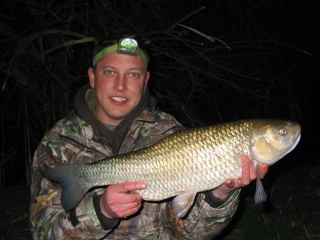 6lb8oz
cheer for now nairny




Posts

: 85


Join date

: 2011-02-07


Age

: 29


Location

: on the stour somewhere



Nairny,
"Always next time"!!!!!!!! you`re never satisfied you miserable old scrote!

Joking aside, I said you were due a big one mate, looks like you might just be running into a bit of form. Lets hope that`s a marker for more of the same (alright some a bit bigger) for the rest of the season. Well done me old mucker, You never know I might even catch one once all the crap drops out of the Thames in the next few days. Oh and tell Adie nice fish but the Maestro takes some stopping.
I dropped a PM to you mate.
Mic



Posts

: 105


Join date

: 2011-03-03


Location

: Never more than 10 foot from a bloody bream.



Absolutely stonking fish Iain, well done mate. Nice double act with Aidie !!
Admin




Posts

: 194


Join date

: 2011-02-02


Age

: 50


Location

: Too far away from the Dorset Stour :(




---
Permissions in this forum:
You
cannot
reply to topics in this forum