After finding a group of big chub and Barbel, I spent a few weeks after them, they became very spooky after catching a couple of the smaller one's, then almost impossible even to get a bite from them. They were living around a dense weed bed in mid river, the weed started to die of a little so I started baiting up fifteen yards above them, after a couple of baiting sessions the time came to give it a go.
My first opportunity came when I had a couple of days off work, arriving at the river late afternoon a few free offerings were fed into the swim, first cast was made onto the small patch of clean gravel, the tip showed signs of life as soon as the bait hit the gravel, then I missed a bite I had been mugged, a new 3-B boilie was attached to the hair and out it went again, almost immediately the tip went round, the strike was good and a big chub was boring into the weed bed in mid river, piling on the pressure she came out and the battle was now played out in clearer water, it was obviously a big fish and on lifting the net from the water it felt really big, a pristine looking chub weighing it at 7lb 5oz, what a result, and a far cry from the weeks spent in the swim below.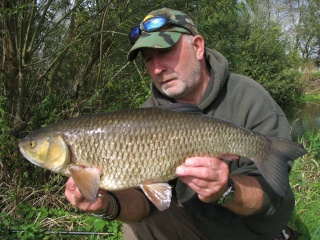 The weekend came and this time Aidie was with me, once again I fished the new swim, Aidie dropped in some thirty yards below me. First cast was made some ten minites after baiting up with the 3-B, I did not have to wait long before the tip started to nudge forward, I hit it instantly, the rod hooped over, the power told me this was no chub, I saw the fish turn in mid river, a barbel into double figures was my guess. Aidie was now at my side giving me some encouragement as the big fish was trying to escape, the battle was long, or so it seemed, but eventually was won, Aidie managed to get the fish into the landing net, but only just, it was a real clonker, we weighed the fish, it was just shy of my personnel best,at 14lb 5oz another great result. I was chuffed the plan had worked.
One more trip resulted in another big chub from the same swim this time at 7lb 2oz, all in the space of five days. There are still a few more very large fish in that area that have not been caught, I will be back!!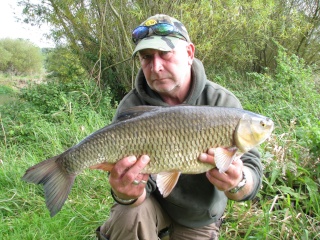 Posts

: 85


Join date

: 2011-02-07


Age

: 29


Location

: on the stour somewhere





Similar topics
---
Permissions in this forum:
You
cannot
reply to topics in this forum