Just wondering if any of you have any good bag mixes to use in solid pva bags, and what sort of hook bait you use with it. Sorry if this is i noddy question. I have only just started fishing after a 10 year gap. Thanks for any help given.



Posts

: 4


Join date

: 2013-07-30


Age

: 51


Location

: Necton, Norfolk



Natural Crave ground bait with 1.5mm pellet & broken boilies in solid bags is a favourite. Fish with Natural Crave chop of 14mm
Admin




Posts

: 194


Join date

: 2011-02-02


Age

: 50


Location

: Too far away from the Dorset Stour :(



Thanks baitboss for the help. I will give those a try and let you know how I get on. Once more Thanks for the help



Posts

: 4


Join date

: 2013-07-30


Age

: 51


Location

: Necton, Norfolk



Hi Phil,
If you're considering doing a bit of tench fishing it may be worth having a few alternative methods up your sleeve! is there any particular reason you fancy the boilie/bag approach? On some waters boilies can be a fantastic bait, but it is always worth considering your options as tench can the most fickle of creatures.
Maggots should always be in the equation as these can often be the number one tench bait(Sorry Darren if it looks like I'm trying to steer Phil away from boilies!). Just a simple maggot feeder rig, standard or in-line, with a short hooklength takes some beating. Although this method can be compromised in certain situations, extreme weed for one when a solid bag would be a better option.
I would certainly never dismiss the boilie/pellet approach though and nearly always have a boilie option available whilst I'm tenching.
Keep trying different things though even down to boilie choice, start on Crave as Darren has suggested, but have an alternative available, just a small change really can make all the difference!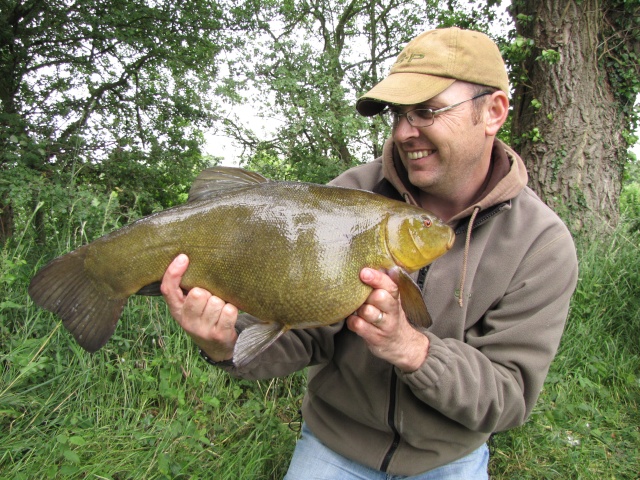 Recent PB of 10lb7oz!
I hope some of this rambling may help?
All the best, and enjoy your fishing.
Martin.



Posts

: 45


Join date

: 2011-05-22


Age

: 46


Location

: Lincolnshire



sound advise as always Tim, cracking Tench.



Posts

: 85


Join date

: 2011-02-07


Age

: 29


Location

: on the stour somewhere



Thanks Iain. It's good to see in your blog you're findind one or two decent fish mate. Keep it up!



Posts

: 45


Join date

: 2011-05-22


Age

: 46


Location

: Lincolnshire




---
Permissions in this forum:
You
cannot
reply to topics in this forum